FEBRUARY 2020 - BARS, CLUBS, RESTAURANTS 20 TRENDS!
By RichUnger@promotingnightclubs.com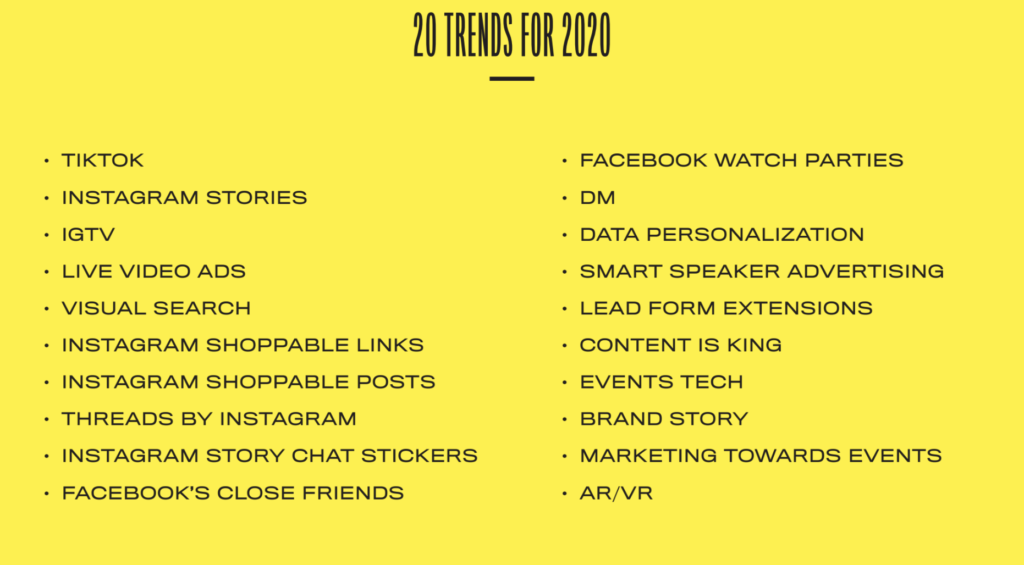 Now Bar Owners, Club Owners, Lounge Owners, Casino Marketing Directors, Restaurant Bar Managers, take these "TOP TWENTY" and chose those which
apply to your Business.
Then sharpen and fine tune your Social Media Platform implementation.
You may not fully understand some of them.
You may not know how to, when to, why to, what to, who to?
That's your problem, which you need to learn and fast.
You may be in OVER YOUR HEAD, thus the lack of results that you are running up against , is due to YOU.
Far too often, too many Owners, Managers, get lax, taking on Social Media Platform responsibilities in the Food and Beverage Business, that they are not prepared, trained, knowledgeable in, and thus they fail.
Take the "SUITS" that create Nightclubs, Restaurants, in Las Vegas, that fail within a year.
Vegas has more of a turn over in both actual Build Outs, and Management, than any other City in America.
No City invests billions of $ based on Presentations that have zero Potential for any ROI, let alone breaking even.
That's why it is Paramount that the TOP TWENTY TRENDS in 2020 are vital to the success of what you do.
This is your "I M " INTERNAL MOTIVATION, IT REQUIRES YOU TO FIND IT WITHIN YOURSELF TO LEARN, TO GRASP, TO TAKE IN, ALL THAT YOU CAN THAT RELATES TO YOUR MARKETING, YOUR BRANDING, YOUR ADVERTISING, YOUR PR FOR THE VENUE THAT YOU ARE DESIGNATED WITH DRAWING IN SPENDING GUESTS.
IT'S NOT SO EASY. BARS, RESTAURANTS, ARE CLOSING EVERY SINGLE DAY ACROSS AMERICA.
I JUST READ OF "BRIE" CLOSING A UNIT, BECAUSE THE GM SAID "THERE WAS NOT ANY FOOT TRAFFIC". TO ME, THAT'S A LAME EXCUSE. YOU CREATE YOUR OWN FOOT TRAFFIC. YOU GIVE PEOPLE REASON AFTER REASON TO DINE, DRINK, DANCE, AT YOUR ESTABLISHMENT.
SO YOUR GOING TO THE BAR SHOW IN VEGAS, BUT WHAT ARE YOU GOING TO LEARN IN 3 DAYS THAT IS GOING TO "BLOW UP YOUR PLACE" AND REINVIGORATE YOUR DAYS AND NIGHTS WITH FRESH NEW GUESTS?
WANT THE NO HOLDS BARRED, NO NONSENSE, PATHS, STRATEGIES, INSIGHT, EXPERTISE TO DO THE BUSINESS YOU ARE NOT DOING?
THEN EMAIL RichUnger@promotingnightclubs.com or fill out this simple form,
http://promotingnightclubs.com/contact.htm
THIS FOOD & BEVERAGE BUSINESS MOVES VERY FAST.
THESE TOP 20 SOCIAL MEDIA ELEMENTS ARE VITAL TO YOUR SUCCESS.
THIS IS NOT ABOUT POSTING ON FACE BOOK, OR PICTURES ON INSTAGRAM, IT'S ALL ABOUT A "SOCIAL MEDIA PLATFORM GAME PLAN", THAT ATTRACTS VISITORS, FOLLOWERS AND RESULTS IN SEATS FILLED, BARS PACKED AND RESTAURANTS WITH A LINE TO GET IN.
YOU HAVE TAKEN SOCIAL MEDIA FOR GRANTED FOR FAR TOO LONG.
YOU DON'T REALIZE THE POWER IT HAS.
SIMPLE THOUGH, LOOK AT ALL THE RETAIL STORES, FAST FOOD CHAINS, RESTAURANTS THAT ARE CLOSING, BARS THAT ARE NO LONGER HERE, CLUBS, SINKING FAST.
THE ENTIRE WORLD HAS CHANGED, DUE TO SOCIAL MEDIA PLATFORMS, THE KEY IS HOW TO DOMINATE AND BE VICTORIOUS IN YOUR STRATEGIES.
FORGET RADIO AND PRINT.
YOU WANT INSTANT GRATIFICATION.
TIME IS TOO SHORT, THIS BUSINESS IS FAR TOO COMPETITIVE.
YOU WANT THE EDGE?
THEN DO WHAT IT TAKES.
_______________________________/
________________________________________________________________________
TINA TURNER REINVENTED HERSELF AND MADE HERSELF A SUPER STAR, FROM HER MUSIC, HER MOVIES, HER CONCERTS, SHE HAS REACHED THE PINNACLE OF SUCCESS.
SO IT IS WITH GREAT ENTHUSIASM, I SHARE THIS
INFORMATION WITH YOU:
Rich,
I would like to submit Private Dancer: A Tribute to Tina Turner for booking.
We replicate a 1980's Tina Turner Concert playing all of her best.
Private Dancer features Shar Wils as "Tina." She has performed as Tina around the globe. (The Desert Inn awarded her "Las Vegas Entertainer of the Year")
We provide a fun, energetic rocking show with Shar going through multiple costume changes.
Audience participation is a must.
We are easy to work with...no BS.
Please let me know if you have any questions.
Thank you,
Russ
https://privatedancerband.com/
BOOK THIS "TINA TURNER PERFORMER" AND PRESENT WHAT YOU NEVER HAVE DONE BEFORE, A FRESH NEW PRESENTATION._____________________________________________________/
"RTD IS THE WAY TO SERVE !"
Bars, Stop Pouring and Start Serving. "RTD" aka "Ready To Drink Mixed Alcoholic Beverages" are more popular than ever before.
From Stoli to Kulahua, to Jack Daniels, from Bacardi, to Jose Cuervo, to BLONDIE By Jenny McCarthy, "premixed drinks" are selling better than expectations.
Why? Taste, Marketing, Branding, Word Of Mouth. It's incumbent upon bars to "Merchandise" these "RTDs" so that their Guests visually are attracted to them and order them !!!!!
What is the #2 Plastic Ready To Drink Beverage, behind Bottled Water, "SPARKLING ICE", this beverage which comes in over 18 different flavors has no calories,no sugar, and tastes INCREDIBLE.
It's better than COKE or PEPSI or DR PEPPER.
It's Taste, it's Flavor, it's Presentation, all are exactly what Customers today want from a Beverage.
But so many bars, sports bars, hotel bars, pool bars, bar & grilles, just do not offer it.
WHY DON'T THEY HAVE A CLUE? The design of the bottle is very unique, it see through, you see the beverage before you enjoy it.
"Sparking Ice's" new flavors include:
Grape Raspberry
Strawberry Watermelon
Classic Lemonade
Lemon Lime
They are so DELISH, you will be a loyal "SPARKLING ICER", once you enjoy your first taste. I will never understand why so many restaurants do not feature "Sparkling Ice". This is a fresh new approach to finding a beverage that will replace your usual Coke or Pepsi.
Their packaging is so FRESH, very creative and a Stand Out !
Try a "SPARKLING ICE" and then you tell me what you think?
RichUnger@promotingnightclubs.com
________________________________________/
You want to live your DREAM? Then let no one, nothing stop you. Stay focused on exactly what you want & pay your dues on the way up, cause often you end up back on the way down, unless you are smart w $, w Love, w Life
_____________________________________________________________________________________/
IT'S NOT THE PRICE OF A BEER OR DRINK, THAT YOU WANT TO FOCUS ON THIS YEAR.
QUITE THE OPPOSITE.
PEOPLE,THIS GENERATION ESPECIALLY IS SEEKING "FUN", "FAB", "WOW".
YET, YOU CONTINUE TO DO THE SAME EVERY NIGHT, YOU LET YOUR PLACE JUST LINGER WITH NO FRESH NEW LOOK, YOU ALLOW YOUR STAFF TO DRINK WHILE WORKING, YOU SHOW UP INFREQUENTLY AND YOU EXPECT YOUR BAR, CLUB, RESTAURANT TO DO BUSINESS?
THE KEY THIS YEAR IS "TRANSFORMATION".
DO WHAT YOU HAVE NEVER DONE BEFORE.
REACH OUT TO A BRAND NEW GENERATION, THAT YOU HAVE LARGELY IGNORED.
STOP "PANIC PROMOTING".
STOP "BAR BEGGING".
THE #1 MOVIE @ THE BOX OFFICE IS "BAD BOYS FOREVER".IT'S BEEN 17 YEARS, SINCE THE LAST "BAD BOYS" MOVIE CAME OUT.
YET, THERE WAS A HUGE DEMAND FOR THIS NEW RELEASE.
WHY? BECAUSE IT HAD ALL RIGHT DYNAMICS IN IT.
WHAT HAVE YOU DONE, THAT YOU DID YEARS AGO, THAT DREW A SRO CROWD, THAT YOU SHOULD DO AGAIN?
WHAT UPCOMING HOLIDAYS ARE YOU GOING TO CELEBRATE AND HOW?
WHEN ARE YOU GOING TO USE SOCIAL MEDIA TO PUMP UP YOUR UPCOMING NIGHTS?
NOT A WEEK IN ADVANCE, NOT DAYS IN ADVANCE.
THAT DOES NOT WORK.
THIS IS WHY VERY FEW SHOW UP FOR WHAT YOU DO.
YOU DON'T HAVE THE EXPERTISE TO IMPLEMENT.
MANY, MANY OWNERS DON'T.
JUST EMAIL RichUnger@promotingnightclubs.com AND STOP LOSING SO MUCH $ AND SO MANY POTENTIAL CUSTOMERS.