OCTOBER 2019 - NFL/COLLEGE GAMES A MUST!
By RichUnger@promotingnightclubs.com
Why do so many regular bars, bar & grilles, restaurants, simply give Sports Bars the Games, this entire NFL/College Football Season?
The days of just having small flat screens mounted on your walls are OVAH!
Now you need HD, Sixty Inch Screens, the bigger the better.
Create a unique Sports Craft Bites and Craft Cocktails and Craft Beers Menu.
This is no time to ignore where the Real $ is for the upcoming months.
A Brand New "Upgrade" to your Menu are featuring "TATER KEGS".
"Jumbo Stuffed Goodness"!
With these new Creations, with featured flavors: Bacon Cheddar & Chive, Crab Feast, Breakfast Skillet, The Ruben, Chorizo Burrito, and Buffalo Chicken, I can assure you, no other local Eatery in your area has these!
Just go to www.taterkegs.com
It's Three Times the size of the average Tater.
And the TASTE, it's beyond any Tater served anywhere.
This is just one addition that enhances your "Football Foods".
Take the NFL and College Teams in your AREA, and on Game Days, Yes, you become a Sports Mecca. You buy the "Direct TV NFL Ticket" so that you have the ability to show all the games.
You have "HALF TIME HAVE THE ANSWER TRIVIA" posing questions about your local Pro Team and College Teams, giving away Team Caps, Tshirts, Visors, you have your beer, your energy drink and your liquor companies provide you with this POS. Oh yes they will and Oh yes they do.
From now on, DON'T TAKE NO FOR ANSWER.
When you place orders every week with these Vendors, You expect them to QUID PRO QUO, and show their appreciation, by supporting your Game Day Parties.
Be Creative for once.
Do Not Let Sports Bars Own these Weekends.
I know a "Bar & Grille Chain", that has a huge outdoor bar, a few tables, but, again a huge outdoor bar, they do over seven figures for Football Season. Food,Drink, Very Pretty Bar Staff in Team Jerseys.
That's it !!!! And they are packed wall to wall every weekend, every weeknight that there is an NFL Game.
Why on earth can't you be? You can, you should, YOU WILL.........................................................
RUNAWAY HOTEL ROOFTOP ! Unfortunately, Management of "Hotel Rooftop Venues" have no clue, no idea, no experience, no knowledge in how to implement both days and nights that cater to a much younger demographic, than their usual older clientele,that they normally serve.
The problems are many, starting with fake ids, bringing in their own liquor, smoking pot, ( where it is still illegal ) behaving in a totally unacceptable manner, including using foul language, and ignoring any civility, and regard for the upscale atmosphere, that they were allowed into.
A Cover Charge, with a serious ID Check is mandatory.
Those that dress like slobs are told to go home and change. The Wrong Crowd took over this fine dining & drinking roof top venue, requiring law enforcement to respond so often,due to over crowding, under age drinking, fights, and a totally out of control environment, that their liquor license was almost revoked and they were forced to close on weekends, thus losing hundreds of thousands of dollars.
Their Management had no grasp or control over what went on.
Their door personnel and staff simply ignored the obvious. Far too many Rooftop Food & Beverage Venues have Management, that have no experience, no knowledge, and no ability to host Nightlife and Weekend Afternoon Crowds that are there to Party. Email RichUnger@promotingnightclubs.com
_____________________________/
A DRESS CODE DISASTER, OVER REACTION, RACISM ATTACHED!
Posted by a brick wall outside the Choptank restaurant, newly installed in the former south shed of Fells Point's Broadway Market, a plaque states a list of prohibitions. Among them: excessively baggy clothing, sunglasses after dark and bandannas. "Management may enforce these policies within its discretion," said a note at the bottom. As a photo of the sign circulated on social media, a Twitter storm brewed; critics accused the highly anticipated restaurant of racial discrimination, and a spokesman for the restaurant group said it is revisiting the dress code days before Choptank opens to the public."We do not support discrimination of any sort, and we are reviewing our policy in light of allegations made," Joe Sweeney, director of marketing for the Atlas Restaurant Group, wrote in an email to The Baltimore Sun.The core of the criticism was that the prohibited styles are popular with some in the African American community, and that the Choptank was telegraphing who management didn't want coming.New Yorker writer Helen Rosner tweeted that the policy was part of a "long, toxic and well-documented history of dress codes... being thinly veiled (if veiled at all).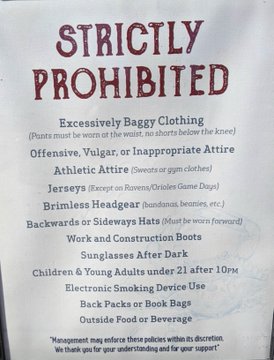 Some online critics took particular exception to the warning about management's "discretion," saying that could be an entry way to overt discrimination, violating citizens' legal rights.
From a legal perspective, dress codes are not inherently problematic, even if they're enforced at the discretion of management, says Baltimore lawyer Thomas Donnelly. He points to a 2010 case in Louisiana, Dunaway v. Cowboys Nightlife Inc., in which the courts sided with a nightclub that had banned baggy attire on the grounds that it posed a safety hazard to guests. plaintiff alleging discrimination would have to prove a pattern of unequal treatment of customers. "If you're applying that standard differently for men and women or for people of different ethnic backgrounds, that could become a problem," Donnelly said. Sweeney said the restaurant group's dress codes are enforced without regard for race or other protected categories. Similar dress codes exist at other Atlas properties including the Bygone, where women are forbidden from wearing backless sandals.
Choptank
Choptank, a new restaurant at the Broadway Market in Fells Point, has a strict dress code that some on social media have called racist.
The Atlas Restaurant Group was founded by Alex Smith, whose own roots — and wealth — run deep in the Baltimore area. Smith's grandfather, John Paterakis, made a fortune through his company, H&S Bakery, and spearheaded the development of Harbor East. Smith's father co-owns conservative-leaning Sinclair Broadcast Group, based in Hunt Valley.The Choptank isn't the only Fells Point establishment with a proscriptive dress code posted outside. Others include the Horse You Came In On and the Dog Watch Tavern, where patrons are also barred from white T-shirts and excessive jewelry. In response to the outcry, the Choptank's Twitter account pointed to such dress codes. But that did little to quell criticism. R. Eric Thomas, senior staff writer for Elle Magazine, wrote that he had been temporarily blocked by the Choptank's Twitter account after inquiring about what he called a "blatantly discriminatory" dress code. Representatives of Baltimore's NAACP chapter did not immediately respond to requests for comment. The local chapter of the American Civil Liberties Union did not make an official available to comment Tuesday."It is racist," said Charisse Nichols, who is the general manager at Harbor East's Bar Vasquez and is African American. "Can you point out to me what white friends you have that dress that way?" The Argentine eatery where she works has no official dress code. "We just say proper attire required," Nichols said. In an email to The Sun, Scott H. Marder, a lawyer representing Atlas Restaurant Group, disputed the characterization of the dress code as racist. He pointed to Atlas' "strong policy against discrimination" and said, "Atlas prides itself in operating restaurants that are open to all and free from discrimination." "Racism still exists in this country and needs to be stamped out wherever it is found," he wrote. "However, false accusations of racism do nothing to eliminate discrimination or foster better understanding among people." Dress codes, such as Choptank's, "help create a particular atmosphere in its restaurants, regardless of the race of the guests," Marder wrote. Nichols said guests to Bar Vasquez tend to dress up anyway, but she welcomes them regardless of attire. "I've had football players come here on a Tuesday night wearing sweatpants and a baseball cap and sunglasses. I've had Jim Palmer coming in wearing sweatpants," Nichols said. The actor Kevin Spacey, she said, wore a brimless hat and sunglasses. "If someone comes into your restaurant, what they're wearing should literally be the last thing you're concerned about," Nichols said. "It's Baltimore." To Nichols, the Choptank case presses on a deeper bruise within Baltimore's culture, and a historic sense among many black people that they are not welcome in certain places. "And that, to me, is the saddest part of all," she said. This is pure racism. "This Dress Code" specifically shouts out to "Black Americans". This was totally poorly thought out. All of this negativity is not what you want your heavily invested in restaurant to portray. Clearly, this was handled wrong? Clearly, there was no discussion with Local Black Leaders to look at this "Dress Code" prior to posting it? Clearly, Management, never ever thought this would be such an explosive issue? Clearly, the Policy, of not being able to turn your Sports Cap around at all, but you can wear one, defies logic?Clearly, Ownership did not retain Experts like myself, to give them the direction and strategies in order to get their message regarding "Dress Code" out on Social Media, but not a non stop list of banned fashion? You have to wonder what Ownership and Management were thinking, besides looking @ what other Establishments in the area dictate with regard to "Dress Codes". THIS IS ONE BIG, YOU WISH YOU NEVER DID THIS, YOU WISH YOU NEVER WENT THROUGH ALL OF THIS. BUT HEY, YOU BROUGHT THIS ON TO YOURSELF & YOUR BEAUTIFUL RESTAURANT. Email RichUnger@promotingnightclubs.com I HAVE HANDLED SITUATIONS LIKE THIS FOR 30 YEARS, AND NEVER EVER HAVE I HAD SUCH A NIGHTMARE ONGOING, BOTH WITH THE COMMUNITY AND THE MEDIA. HUGE, MONUMENTAL MISTAKES , ONE RIGHT AFTER THE OTHER WERE MADE HERE.
__________________________________________________/
When Was The Last Time You had a "BRAND PARTY"?
Where you featured one liquor Brand, and gave away POS of that Brand, had Brand Girls sell the Brand, and did some serious business? You don't ask, so your Salesman does not offer.
What are you thinking?
Craft Beers need to get into your bar, they will host a phenomenal Craft Beer Celebration.
But you have to ask?
You seriously need to have me show you the "MOXIE" the new "ATTITUDE" you need to adapt to accomplish these simple ADVANTAGEOUS ACCESSIBLE CONCEPTS !
___________________________________/
NEW OWNERS, WHAT ARE YOU THINKING?
A FORTY YEAR OLD BBQ LOCATION'S OWNER IS GOING TO RETIRE. THE COUPLE HAVE WORKED VERY HARD, HAVE A
VERY SUCCESSFUL BUSINESS, BUT IT'S TIME TO ENJOY LIFE.
THEY ARE KNOWN FOR "THEIR RIBS".
A NEW "FUSION BBQ" CONCEPT IS GOING TO OPEN IN THAT SPACE. IT'S RIGHT ON THE HWY. EVERYONE LOVES THE ORIGINAL OWNERS RIBS.
BUT, THE NEW "FUSION BBQ" OWNERS ARE NOT, I REPEAT NOT GOING TO SERVE OR OFFER ANY KIND OF RIBS!
THESE NEW OWNERS ARE GOING TO FIND, FIRST HAND, THAT CUSTOMERS FOR 40 YEARS CAME TO THIS BBQ LOCATION, FOR THE RIBS. I WOULD URGE THESE NEW OWNERS TO PRESENT THEIR MENU, THEIR CONCEPT, BUT NOT TO THROW ALL THESE PREVIOUS CUSTOMERS UNDER THE BUS, BY DOING AN 86 WITH THE RIBS?
VERY UNWISE DECISION.
ON ANOTHER STREET IN THE SAME COMMUNITY THERE IS A 30 YEAR GREEK RESTAURANT, THAT HAS BEEN SOLD. THE NEW OWNERS ARE ALSO GOING TO ROLL OUT THEIR FORMAT, THEIR ATMOSPHERE, AND THEIR MENU, JUST LIKE THE NEW "FUSION BBQ" BUSINESS OWNERS ARE GOING TO, EXCEPT.............THEY ARE GOING TO KEEP ALL THE FAVORITE GREEK DISHES, THAT ARE SO POPULAR AT THE PREVIOUS RESTAURANT. BRILLIANT. JUST GENIUS. THERE ARE SO MANY PEOPLE THAT OPEN RESTAURANTS, FAIL TO REALIZE THE ELEMENTS THAT ARE REQUIRED FOR MASS APPEAL, FAIL TO UNDERSTAND THEIR MARKET, FAIL TO EMBRACE CHANGE, FAIL TO FEATURE NIGHTLIFE, FAIL TO MAINTAIN CONSISTENT QUALITY, STAFF, ATMOSPHERE AND MANAGEMENT, THUS THEY SADLY FAIL.
EMAIL RichUnger@promotingnightclubs.com IF YOU NEED EXPERTISE WITH YOUR RESTAURANT.
_______________________________/