APRIL 2019 - RESTAURANT SURVIVAL!
By RichUnger@promotingnightclubs.com

Restaurant Owners are facing the most significant challenges of their existence.
There are so many questions they have to ask themselves.
A. Are my Prices right?
B. Is my Cuisine the right kind of foods to be serving?
C. Do I add & remove items that are now very much in demand vs those that nobody orders anymore?
D. What is "SYSCO" doing for me, since I give them so much business?
E. Is my decor and atmosphere outdated?
F. DO I need a new Name, Image, MAKEOVER to stay open?
G. Is my Staff giving 100% or do you need to hire new faces with dedication?
H. Is the competition so much so close to my location, I need to be very proactive in my Promotions, my Social Media, my Entertainment @ Night, my overall Food Service?
I. Is my Partner pushing us into closing, by their actions?
J. Are my Reviews on Line bashing my establishment, true, and what have I done to correct them?
K. Is my Chef giving 1000% to every dish that comes out of "MY" Kitchen?
L. Do I have a Delivery System up and running smooth?
M. What do your chairs, tables, bar top, rest rooms look like?
Can you not just survive, but can you THRIVE as your Restaurant is now operating?
ARE YOU READY TO "REMAKE", "REINVENT", RENEW" & RECOVER?
Then, email RichUnger@promotingnightclubs.com
AFTER READING THIS NEXT PIECE, SCROLL ALL THE WAY DOWN FOR SO MUCH MORE VITAL INFO !
======================================================================
HOW POWERFUL IS A VERY SIMPLISTIC USE OF "SOCIAL MEDIA", LOOK @ WHAT ONE TWEET DID, TO TAKE A BRAND NEW BUT TOTALLY "EMPTY" DONUT SHOP AND MAKE IT JAMMED WITH CUSTOMERS!
THE #1 PIZZA CHAIN IN THE USA IS "DOMINO'S".
THE #1 TECH SAVVY, SOCIAL MEDIA DOMINATOR IN FAST FOOD IN THE USA IS "DOMINO'S".
ANY FOOD OR BEVERAGE OWNER WHO THINKS TWITTER IS MEANINGLESS, JUST READ THIS STORY BELOW, AND LOOK @ THE RESULTS ! NOW ADD ALL THE OTHER "SOCIAL MEDIA" PLATFORMS AND THIS IS POWERFUL MARKETING. YET, YOU HAVE NO FAITH OR CONFIDENCE IN IT. WELL, GUESS WHAT, THIS TOTALLY PROVES YOU WRONG...........................................

FATHER AND SON
Twitter proved, yet again, to be the most powerful marketing strategy.
A doughnut shop owner's son, Billy By, took to the social-media platform and tweeted about his father's empty shop.
"My dad is sad cause no one is coming to his new donut shop," By tweeted alongside a few photos of the store, one of which showed his dad standing behind the counter and additional pictures showed a fully stocked doughnut shop and no customers at Billy's Donuts.
By also shared the address of his dad's shop along with its operating hours and Instagram handle in case anyone wanted to stop by.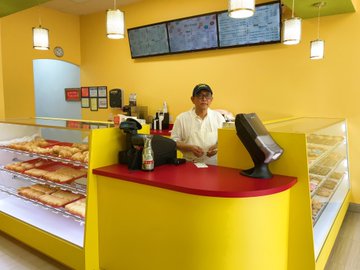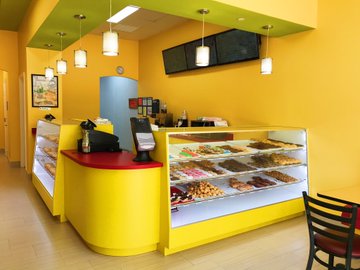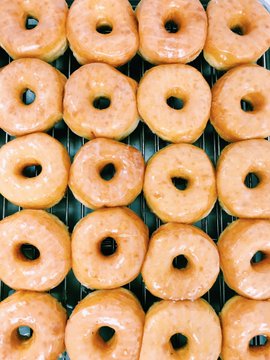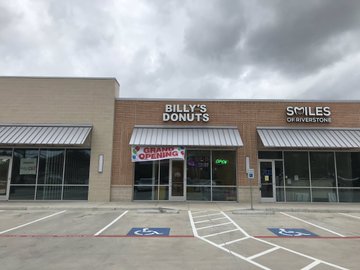 billy's donuts@BillysDonutsHTX
My dad is sad cause no one is coming to his new donut shop

343K people are talking about this
People quickly took notice of By's sad dad and wanted to turn his day around. At the time of writing, the tweet had been liked over 500,000 times and shared over 200,000 times.
KPRC-TV reported that when the outlet stopped by the shop it was "slammed with customers."
"Dude it was really busy when I went too!! His mom was talking about how she usually knows how much to make in a day but today she didnt expect the turnout," wrote one Twitter user.
"The power of the tweet works. Billy's Donuts has long lines this morning," wrote a Gil Gredinger.
By updated Twitter on Sunday to thank everyone for their support and let everyone know that they had "completely sold out of donuts and kolaches." The tweet included a photo that was in complete contrast to the first string of photos — one of him and his dad, arms around each other and smiling behind the doughnut counter.
"Just wanted to update yall! We completely sold out of donuts and kolaches! You are all amazing," By wrote. "I can't thank everyone enough for coming out and supporting local businesses. This means so much to my family."
________________________________________________________________________________/
Thinking Of a Really Dynamite Promotion/THEME to Shake Up how Slow it is on some weeknights?
The Top Five Blockbuster Movies in "The Marvel Cinematic Universe are:
1. "CAPTAIN AMERICA, THE WINTER SOLDIER"
2. "GUARDIANS OF THE GALAXY"
3. "CAPTAIN AMERICA, CIVIL WAR"
4, "THE AVENGERS"
5. "BLACK PANTHER"
Now, since these genre of films are soaring box office stars, why not embrace this Theme on a slow night, with a full month of branding, marketing and advertising?
Why not, add, decor, costumes for staff, contests, showing the movies, playing the soundtracks, hanging the movie posters, creating challenges for your customers, YES, you charge a cover charge, this is a "PREMIER PROMOTION".
Now, it's up to you, take it from here......................................
_____________________________________________________________________________________/
BEER, BANDS, & BBQ
Now is the time to plan for "Memorial Day Weekend", this is the Weekend, you salute our Troops, invite all those who are home and out of the Service, all those who are still going on more Tours overseas.
You host a "RED WHITE & BLUE" Fashion Flash, featuring all Red White & Blue Female Styles on very professional Models, that you contact local agencies, put a "Casting Call" on Craigs List, there is no Pay, because it's for our Armed Services.
Set up a stage, with a huge Red White & Blue Backdrop.
Have a Female MC who uses a Wireless Microphone, and also dresses in Red, White and Blue. Decorate your bar and your outside in a Tribute to our Troops.
Have your Beer Vendors create huge banners to hang ASAP advertising the day/night.
USE SOCIAL MEDIA NOW.
Book American Bands that play American Rock Dance Music.
Serve Red White & Blue Cocktails.
This is your "KICK OFF TO SUMMER",pull out all the stops.
Contact your local Armed Services Recruiting Offices to have Representatives from all the Armed Services appear in uniform and escort the Female Models on Stage.
You can buy Red White & Blue Fashions so inexpensive online, or form an alliance with an independent local fashion boutique to provide the fashions.
Have a huge cook out, a pig, ribs, hot dogs, chicken.
Slaw, Tater Salad, Baked Beans, Rolls, Corn on the Cob, this is All American Eats.
Make it one price and Patrons get one Run at the table of Eats, to fill their plate.
Go to www.orientaltrading.com for US Flags and Flag Decor.
This is a huge event, that can be held for two days/nights.
Questions?
Email RichUnger@promotingnightclubs.com BUT get started on this major Memorial Day Weekend Salute to our Troops NOW.
Finally, consider hosting a "RED WHITE & BLUE & YOU BIKINI CONTEST", any girl 21 and up can enter, wear her own style of bikini, but it has to be all red, all white, all blue, or all three colors combined, or a US Flag bikini, or let them get creative.
Ask your Liquor Vendor to provide the prizes and Cash Prize.
_________________________________________________
IN 2012 THERE WERE 1,143 "CRAFT MICROBREWERIES IN THE US, BUT, IN 2017 THERE WERE 3,812 MICROBREWERIES.
AND YET, YOUR BAR IS STILL HESITANT TO GO ALL IN, OFFERING, FEATURING, SERVING "CRAFT BEERS". WHAT YOU REFUSE TO ACCEPT IS THAT THIS GENERATION WANTS NEW "CRAFT BEERS".
ESPECIALLY, THOSE THAT ARE LOCAL AND BREWED IN YOUR STATE.
As I have said before, many, many, "Craft Beers", are opening up their own "Brewery Bars", that serve their own Beers, in addition to food, offering music and basically becoming your competition.
How do you compete,very simple.
You approach your State wide "Craft Beers" and propose "POP UP BREWERIES", that are inside your bar.
That's right you take the "Craft Beer Brewery" to your bar, along with selling their t shirts, merchandise, and creating a fresh new "WOW" to your worn out bar.
Think about it, being the only bar in your entire area with a "POP UP CRAFT BEER BREWERY"?
Your bar would be packed, there would be no slow days or nights. "Craft Beer Aficionados" would be flocking to your bar. You would have Promotions, where the Master Brewers would have "Ask n Answer" Concepts. You would host Charity Events. The possibilities are endless. Do you have the "VISION" to make this a "REALITY"?
Month after Month I give you the "WOW" it's incumbent upon you to fill in the blanks and present the "CONCEPT".
Or email RichUnger@promotingnightclubs.com or fill this easy form out and find out what's wrong with your place?
http://promotingnightclubs.com/contact.htm
____________________________________________/
HERE'S THE "APRIL CALENDAR" WITH TWO IDEAL "WEEKEND FOOD CELEBRATIONS".
FIRST,"DEEP DISH PIZZA."
THEN,"GRILLED CHEESE."
BOTH,ARE IDEAL FOR ALL MAINSTREAM RESTAURANTS.
YOU PRESENT THESE TWO "FOODIE FAVES" ON BOTH FRIDAY AND SATURDAY.TAKE FULL ADVANTAGE. MAX OUT SOCIAL MEDIA AND LOCAL TV NEWS MEDIA FOR COVERAGE.
YOU, READ MY COLUMNS, Month after Month, yet you do nothing different to Improve, Increase and Interact with your Management, your Staff & your Social Media Applicators!
Why not?
Why would YOU, rather suffer, with slow business to no business.
Why would you rather let competing bars, restaurants, clubs, sports bars, do the business, while you don't ?
Why would you rather simply go through your motions, that do nothing to enhance, excite and ignite your revenue or guest counts?
Recently, a bar & grille format that catered to a rather rowdy crowd closed down. Yet, an individual connected with this venue, took over the location, renamed it, and yet, chose to cater to the same rowdy crowd that caused the original business to close.
Seriously, you can't make this up.
It's a "dive bar" type format, no dress code, no consistency, same fried food ( yuck ) bar food, same loud alternative bands that simply cause music havoc.
I give this new version of the old version six months tops until they too close down. Featuring an "Arm Wrestling Tournament" is not the type of "FUN", that attracts Women, Men who spend and a quality Crowd. After one full month of operating, take a look @ the condition of the "Men's Restroom" and that tells you the demographics that frequent this establishment.
There is no use of "BAR BRAINS" in opening or operating this type of format.
"BAR BRAINS" is a trait, the gives an Owner the instinct to know what music is #1, what fashion is in style, what move is #1 @ the box office, what besides "Hooking Up", is the "Catch Phrase" for this Bar Generation?
Way too many Owners are out of touch with doing business with the least amount of problems, trouble, hassles, challenges.
Just having a bar full of people does not mean you have a successful "Money Maker".
It's what they spend, how many are women, how often they come back, if they bring their friends with them, do they dress appropriately, do they behave accordingly?
If your just going to settle for anybody @ anytime, you will find this is the worse way to keep a bar & grille, a sports bar, a club, a restaurant with a bar, a beach bar, a bowling center bar, a banquet hall with internal events OPEN !!!!!
__________________________/